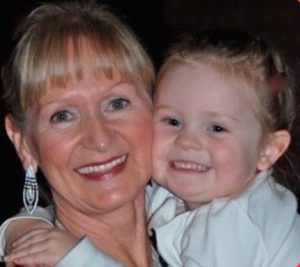 Susan MacNeil  B.A., B.Ed., M.Ed
My name is Susan MacNeil.
The beautiful young lady in the picture with me is my granddaughter!
I have been a school principal for 33 years.  I have taught and been an administrator in public, private and Catholic Public/Private schools in Canada.
I have had the honor of being recognized as one of "

Canada's Outstanding Principals

" for work I did in a school that had a poor reputation because of high discipline issues and low academic performance. Helping turn that school around has been one of life's greatest joys for me.
Seeing children proud of themselves, parents proud of our work and the community embracing our school with open arms has been an experience I would want for every school administrator.
I am pleased to share the "Lessons I Have Learned" from the countless children, parents, schools and communities in which I have worked.
I absolutely loved being a School Principal and I would love to help you enjoy being a school principal too!
Top THREE Lessons I Have Learned
1. No matter how tough the decisions are, you can always feel confident you are making the RIGHT one if you can answer the question…"Is this in the best interest of our students?"
2. Our REAL Employers are the STUDENTS. If we did not have them, we would not have jobs! Can you stop a student in the hallway and ask him or her, "Have I served you well today?" "Is there anything I can do to help you be more successful?" Our students need to be the central focus of all we do.
3. "Life is a Dance". So is our job as a school principal…"Sometimes we lead, sometimes we follow".
I believe that the school principalship is the best job in the world.
If you are one, consider yourself very fortunate!
Retirement
One of the hardest decisions I had to make was deciding when to retire. It is very difficult to leave a job that you absolutely love.
When I finally made up my mind, I decided that instead of leaving my job behind me, I would share what I learned with those who were still "doing the work".
I hope I can help you maintain a love for your role as a school principal!
I advised my colleagues to find a song that symbolizes their journey as a school administrator.
Here is mine!  
With the help of my dance instructor, I will show you my other passion.
Life's a Dance
After Retirement
Retirement can be a huge adjustment.
I needed to figure out what I was going to do with my time.
Yes, I would continue dancing, I would travel and I would spend time with my adult children and my grandchildren.  That was a given; however, I 
had skills and abilities that I wanted to keep sharp.
I wanted to continue solving problems and helping people.
I needed a challenge that was different from what I had done for 33 years, but would provide the satisfaction of being a life-long learner.
I started searching for something that would fit into my new life style.
I found several opportunities that appeared to be promising.   I wanted to be able to work from home and utilize the internet.  An on-line business was what I was seeking.
I stumbled upon a couple of companies promoting their platform.  I joined one that promised support and guidance.  I needed both support and guidance because running an on-line business was foreign to me.
I signed up and paid  $3,000  for the initial help.  I was working extremely hard at developing my website.   I had to learn HTML in order to get anything on my site.
I was only a week or so into creating content, when I received a call from the company telling me that if I upgraded, I would have access to far more support.  That upgrade cost me an additional $7,000.
I worked for hours every day for over four months before I actually could see text and images on my site. Towards the end of the four months, I received yet another call telling me that I would have access to thousands of products to advertise on my website.  That upgrade was another $5,000.
If you are questioning my sanity at this point, you are not alone!  I did fall for the sales pitch.  I was now $15,000  into this company and my website was still incredibly laborious to develop.  I was also paying  $50 per month for website hosting.  (No, I did not make any money with my website.)
I did receive weekly training calls and I did all my homework.  I was an excellent student.
While slugging away with that company, I came across an article about SCAMS on the internet.  I researched the company that reviewed SCAMS.  The reviewing company was called Wealthy Affiliate.
Wealthy Affiliate offered a free startup with training and if you wanted to upgrade, it was only $49  per month.   I looked into Wealthy Affiliate and soon discovered that I did NOT have to use HTML with their web site development and training program.  I did NOT need any more financial investment to be successful developing an 0n-line website and their support and training was beyond my expectations.
As I was joining Wealthy Affiliate, I received a call from my previous web site developer who told me they were now upgrading their program so that I would not need to work with HTML and that their website could now be supported on mobile devises.  The pressure to upgrade was intense.  For an additional  $3,000  I could receive their new easier-to-use program!!!!!
Fortunately, I was already convinced that Wealthy Affiliate was undeniably a superior choice.
I  found what I was looking for in Wealthy Affiliate.  There was ample room for problem solving, continual learning, first class website designing and unlimited guidance and support.  When you join Wealthy affiliate, you become part of a vibrant group of  like-minded individuals who are there to support you and cheer you on in your journey to a successful on-line business.
I was now back working with a team working towards goals and solving problems along the way!    I really did find what I was looking for in the on-line business world.
The FIRST day I joined Wealthy Affiliate, I had a website started.  I was indexed on Google after one week with the company.  The step-by-step training and personal guidance you receive at Wealthy Affiliate is like having your very own Leaning Assistant Teacher.
The two young men who developed Wealthy Affiliate, Kyle and Carson, are young entrepreneurs from Victoria, B.C.  The way they have designed the instructional component of their program, is second to none.  
I am acquiring an amazing number of skills for pennies.  
I love being a part of  Wealthy Affiliate!
I am looking forward to being successful and earning a great income in retirement!  Prior to retiring, I did not work for the money.  That was never my focus.   Money was not a motivator for me.
Now that I am retired, I am going to give the concept of working to earn money a try.
Why not!!!!!   It is exciting!
I have embarked on a whole new adventure.
You can too, even if you are not retired.
Check it out.  Get started now. You won't be sorry!   It is lots of fun and very rewarding!
Email Me

to "chat" or write a comment below.   I will get back to you PRONTO!